Written By Grace deVega
SDSU History Major, 2022
For the past several weeks, these expressive onomatopoeic words have flown around in my head with the same velocity and ferocity as they would on any comic book page as I begin to dive into their meanings, impacts, and distinct roles within the voice of a comic.
This semester, I have been given the tremendous opportunity to intern with Professor Pollard and Librarian Pamela Jackson and contribute to their ongoing efforts in the Center for Comics Studies by studying depictions of sound in comics. In particular, since a significant focus of the Center is social justice, exploring the engagement that individuals with auditory (visual, and other) disabilities may have with sounds in comics was both of interest to me and in alignment with the values and mission of the Center's Comics and Social Justice "Big Idea." Likewise, because comics are known as a visual medium, their auditory aspects are often overlooked, so I was intrigued by the interplay between these two senses on the page. This "expressive potential" of pictorial representations of sound to evoke aural and emotional responses and associations from audiences is what American cartoonist Scott McCloud labels as "synaesthetics" (Understanding Comics, p. 123-124). Additionally, as a lifelong musician, the depiction of music in sequential art is particularly fascinating to me. I have also conducted similar studies of depictions of music in the past, so this research felt like a natural progression.
In terms of showcasing this research, I'll be creating a digital exhibit that explores the various types of aural depictions in comics, including music, onomatopoeia, and nonverbal sounds. In particular, I hope to incorporate into the exhibit the wide array of the comics, graphic novels, and other forms of sequential media from SDSU's collection,  as a way of highlighting our collection's connections to this area of research.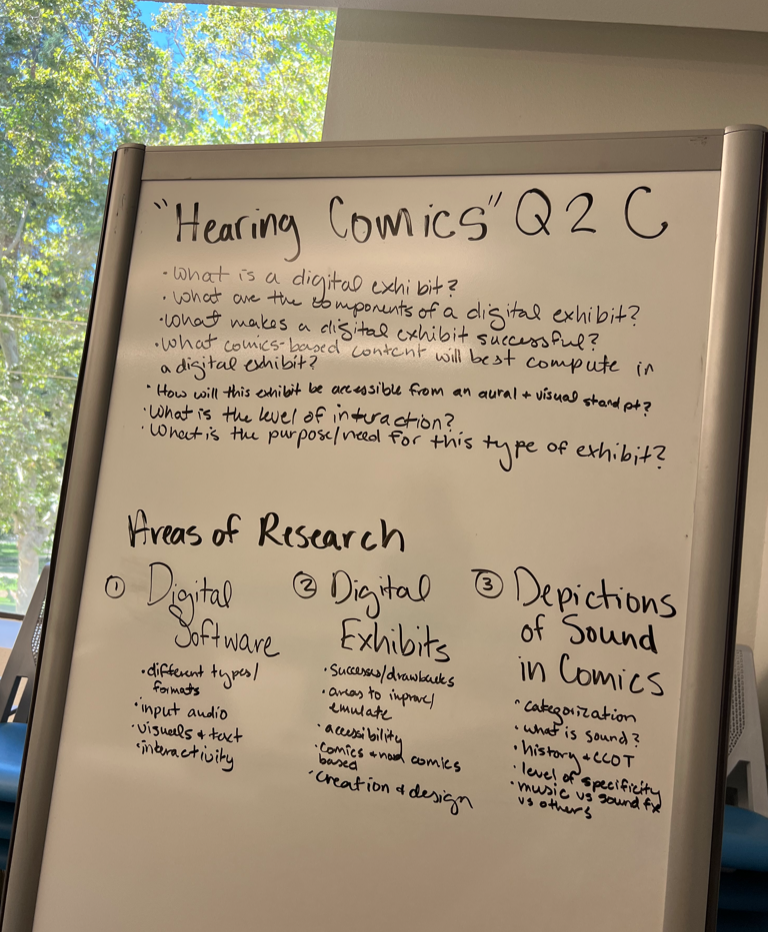 My first step in this process has been to create a brainstorming storyboard that contains a running list of the topics and areas that I would need to cover to make this project worthwhile. Figure One shows an early draft of this brainstorming and includes many of the preliminary questions into which I have been looking. As a result of this thinking, I soon realized that there would be three main areas to which I should dedicate my focus: exhibit design, digital exhibit software, and content research. I have relatively less experience with the former two, so I have spent most of my time working on them.
For exhibit design, one of the most fascinating parts that I have been learning about is exhibit theory. Articles such as "Methodology for Design of Online Exhibitions" by Angeliki Antoniou, George Lepouras, and Costas Vassilakis review the considerations that digital exhibit designers must take as they create their displays, including audience composition, learning models, and level of interactivity. Such research has been foundational to my subsequent studies. In addition, I have learned about exhibit design by looking into several published digital exhibits from various museums and institutions. Places like the Billy Ireland Cartoon Library & Museum in Columbus, Ohio and the Walt Disney Museum in San Francisco, California have been particularly helpful in demonstrating both the necessities and possibilities for a successful exhibit.
Familiarizing myself with digital exhibit software has been the biggest learning curve for me, but also the most rewarding. I have limited experience with website design and coding, so I have been spending a lot of time learning the basics of digital language in order to make a decision about which software I will use. I have also watched tutorials and began experimenting with different platforms, including Adobe XD and Omeka. This type of research has been empowering because, unlike any other project I have undertaken in college so far, the end product will be tangible and shareable in ways that papers or presentations could not equate.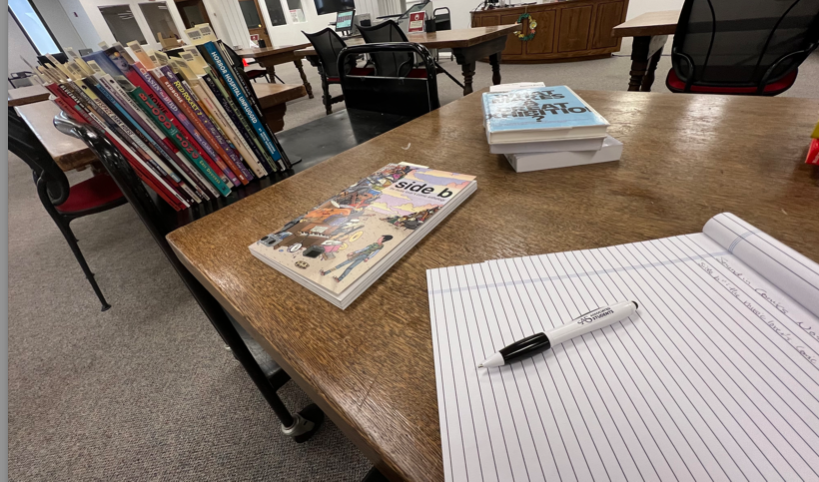 Lastly, for my research in depictions of sound in comics, I have learned a tremendous amount and have found many different avenues that I am excited to explore. For instance, I am interested in the role that memory plays in recalling sounds, and how artists rely on those memories to visually represent a sound. This is found in sounds with cultural significance, such as in religious rituals, as well as in music. Aiding my research in this area has been the Special Collections department in the SDSU Love Library, which has provided me with a variety of comics from our archives that I can use for the digital collection. Figure Two features me in special collections with all of the books from the collection that I hope to incorporate!
All of this to say, I am extremely grateful for this opportunity to not only explore a topic for which I have an immense passion and interest, but also strengthen my research, design, communication, and technical skills. I am so excited to continue this work!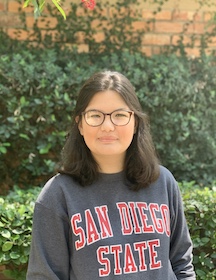 Grace deVega (she/her) is a Fourth Year History and Political Science student at San Diego State University. She previously won the President's Award at the SDSU Student Research Symposium and 1st Place in her Division at the CSU Research Competition for her research into the impacts of the 1986 Philippines People Power Movement on nonviolent revolutions. She has also played clarinet for the past twelve years, including in the SDSU marching and concert bands, which is where her passion for music and aural studies derives.